People management is one of the most paradoxical areas in a company. One of the main issues is that for CEOs of most organizations, human capital management is one of the most pressing concerns on their agendas, but not always addressed, since companies do not put forward many examples of holistic actions when tackling it.
To counter our claim, look at results from research with senior executives conducted annually by The Conference Board, one of the most prestigious think tanks and possibly the most important global business membership and research association. The latest study available on the CEO Challenges in 2017 establishes the following: Human Capital is the main, and most important, challenge that senior managers have on their hands.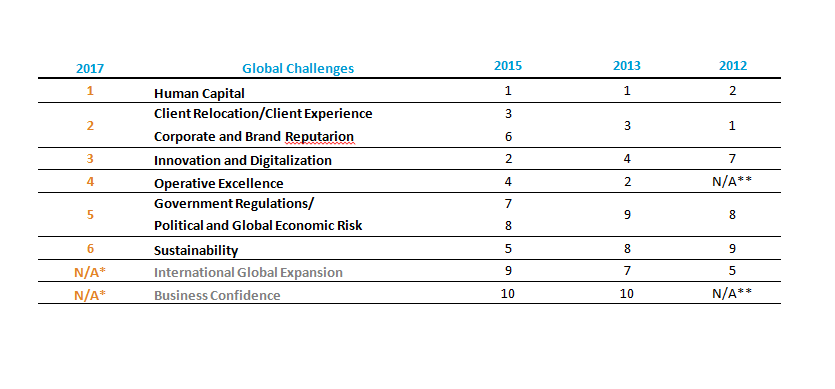 My question is as follows: as it has been like this over the last few years, why do top executives of companies not show at least the same effort and dedication to people management as in other business areas within the company, such as sales, operations?
Aetiology of the problem
I am convinced that there are several reasons why CEOs do not more decisively support this area of management, however, we should primarily highlight:
As pointed out in our first post, traditionally HR has dealt with transactional issues and experts assure that HR is essentially devoted to transactional tasks, and very little to tactics.
It is not possible to properly measure what HR does and what it contributes to the company using quantitative data. HR manages based on impressions rather than data. This qualitative nature of how HR manages allows any lay person to comment, take a stance, and decide—especially line managers—on this function. The absence of practical indicators and poor correlation, and even the muddle between outputs and outcomes makes this hard to manage and it is partially responsible for the negative reputation HR may have (i.e. number of training hours vs. costs, etc.).
What should HR do today?
So, what should HR managers do? What should they address? Of course, they should help the CEO of the company to think about the strategy that the company must pursue for its people to succeed in this new digital revolution by managing the change from an analogue culture to a digital one, as this can now be done and measured.
My proposal in this post today is for HR to take advantage of the opportunity that digitalization and the emerging applications offer to quantify their actions using objective data and link them to results.
Fierce competitiveness of the markets has led to personalization and deep knowledge of consumers: customer centricity. This is fundamental for differentiation between companies and for consequently accomplishing their business objectives. That is why companies need to come up with innovative products and services that meet the needs and expectations of customers who demand experiences and sensations that go beyond a product's basic features. This is what is known as Customer Experience (CX).
As a result, in this new digital environment, organizations have realized that their employees are a crucial, core piece for being able to adapt to the requirements of highly informed and demanding clients who are well able to influence the development of their company's business. This is how the concept of employee centricity has emerged, by placing the employee at the centre of company strategies and conferring the employee greater prominence, in which HR plays a key role.
The digital world we live in together with the configuration of new business models is causing the consumerization of HR, that is to say, it is forcing the employee experience to be looked after in the same way as the customer experience by trying to eliminate all the points of friction that professionals may have with their company. The purpose of which is to increase employee engagement and contribution to the business. This experience is built with various generations of employees (Baby Boomers, Generation X, Generation Y or Millennials and Z) by living in their in their shoes to understand what they are like, how they live, and how they want to feel within the company.
The moment has come
Yes, I am convinced that the time has come, as Arthur Schnitzler, the Austrian playwright, once said, "To be ready is one thing, to be able to wait is another; but to seize the right moment is everything" or as the Bible says, "To everything there is a season, a time for every purpose under heaven." (Ecclesiastes 3: 1-22).
Now is the right moment for this much battered area of management to become proactive and develop a data-based digital talent management strategy. So, HR, which has always been accused of being subjective and incapable of correlating what it does with its impact on results, must be aware of the great value of data management. Well analysed and managed data has the potential to double their usefulness consistently by using them to quantify actions or to make predictive analyses and apply them to the employee life cycle in the company, starting out from, as we have already pointed out, the analysis of the employee experience and the points of friction in the relationship with the company.
For this, HR must use the life cycle analysis of the people in the company from the time they enter until they leave, analyse processes, objectify the friction points with employees, and measure them by using data analytics from the integration of available applications, and then link this application, which could well be Meta4, to the company's ERP (Enterprise Resource Planning).
Basically, people analytics is the use of innovative technology solutions that enable the analysis, segmentation, customization and measurement of talent policies and plans for each employee based on their needs. This leads to companies improving the work experience of their employees and consequently increasing efficiency and productivity.
By applying the analysis of these data to talent management, we can define career plans, identify the best candidates in a recruitment process, discover talent outside the company worth attracting, optimize the process of assigning people to tasks, create training plans, anticipate reasons for leaving, assist with decision-making on promotions or internal recruitment processes, identify the influencers of our organization, manage our ranking in Glassdoor or other similar portals, check through social network usage how often do they update their curriculum vitae and even what our professionals are like and what they really feel, predict how they will behave, and more.
Conclusion
The convergence between connecting people, devices, systems and data produces a digital density that enables HR to grasp the opportunity and transform their weaknesses into strengths through data management.
I believe that for the first time the HR leadership and management is better positioned than any other area of the company to champion this revolution in social interaction technologies. Their knowledge, skills and competences as well as their cross-functions in the company are important points in their favour for taking on this exciting challenge. If we take the business and the transformation situation seriously, this area which customarily trails behind in the slipstream, should advantageously embrace a Chinese interpretation of this moment; because our dear reader is already aware that the Chinese have a very wise character to represent change: the upper part denotes threat, but the lower part also represents opportunity. Whether it is a threat or an opportunity will depend on the decision we make: we can spearhead transformation or continue to roll back; but to lead it you must start by developing a digital talent strategy based on facts; that is to say, on data and not on impressions.